Home / Documents / The Oklahoman, July 14, 1967 - Museum Opens At Elk City
The Oklahoman, July 14, 1967 - Museum Opens At Elk City
An article from The Oklahoman, July 14, 1967 about the opening of the Old Town Museum
Elk City – Western Oklahoma residents are expected to throng to Elk City Friday night for the formal opening of Elk City's Old Town Museum.

The project, proposed about 15 years ago, was financed by a $25,000 bond issued and $10,000 in donations.  The 11-room gray house on the west edge of Elk City is furnished with items provided by western Oklahoma residents.

The replica of an Elk City home of 60 years ago is the first phase of the project.

Two performances of a melodrama by the Elk City Theatre Guild, a tour of the museum and a speech at 8 p.m. by Bill Burchardt, editor of Oklahoma Today, are included in the schedule planned for the formal opening.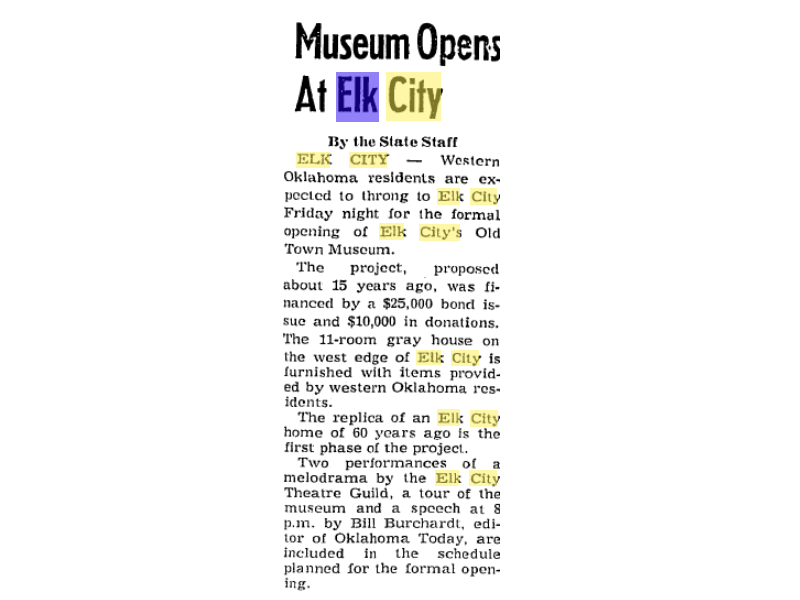 More Previews
File Type

png

File Size

86 KB

Download

1

Views

40

File Count

1

Version
Create Date

October 11, 2022

Last Updated

October 12, 2022