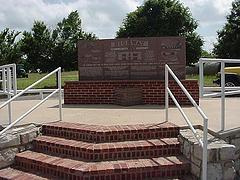 Highway, Oklahoma Marker
In honor of the people who lived here from 1892 to 1957, and built this community.
Land for the memorial was giving by the children of Aud Xennemer. Art work by Joe R. Waldrop
Community History (School excerpt)
June 16, 1921, there was an election at Taylor school for the consolidation of Taylor and Sadler schools and parts of Ural and Poarch schools. It carried by a vote of 108 for and 54 against.

July 2, 1921, school bond election in the new consolidated district carried by a vote for 105 for and 34 against.

July 15, 1921, the new consolidated district had its first annual meeting. They voted for an eight month term of school this first year. The name selected for the new district was "Highway"